Events
Lana Schwarcz performing in Ottawa, Hamilton and Winnipeg
Australian actor and stand-up comic Lana Schwarcz will be performing the stand-up piece titled 'Lovely Lady Lump' at the Ottawa Fringe Festival from 16 to 26 June 2016.
She will also be performing in Hamilton from 6 to 9 July 2016 and at the Winnipeg Fringe Festival from 13 to 23 July 2016.
For more details and tickets, please visit:
Ottawa - http://ottawafringe.com/shows/lovely-lady-lump/
Hamilton - https://www.facebook.com/events/1196055390435027/
Winnipeg - https://www.winnipegfringe.com/home.aspx
A Work-in-Progress showing of a new work by artist Antony Hamilton
Antony Hamilton is a Melbourne-based Australian dancer and choreographer in the first year of his term as International Resident Artist at Dancemakers.

Antony will be developing a new work with local dancers Michael Caldwell, Meryem Alaoui, Anna Finkel and Jolyane Langlois.
Lifelines: Indigenous Contemporary Art from Australia
Lifelines: Indigenous Contemporary Art from Australia is an exhibition at Québec City's Musée de la civilisation running from 21 October 2015 to 5 September 2016. The contemporary Australian Indigenous art attests to the cultural vitality and rich history of Aboriginal and Torres Strait Islander people, carrying on powerful artistic traditions dating back more than 60,000 years.
Lifelines exhibits close to 100 works selected by guest curator Professor Françoise Dussart of the University of Connecticut. They are displayed in an open space that evokes the vastness of Australia— its earth tones, vegetation, and blue skies. The exhibition features three thematic zones: "Land of Dreams", "Land of Knowledge", and "Land of Power".
At the entrance to the exhibition is Karrku, an immense collective work by 36 artists from the community of Yuendumu in the Tanami Desert. Two interactive terminals detail the ancestral stories that underpin the piece. Further on, three creative video montages take a look at the human presence dating across the millennia. There are also 11 family learning stations to spark young people's curiosity.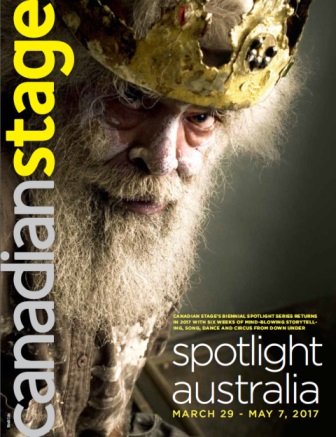 Canadian Stage: Spotlight Australia
Canadian Stage, a leading contemporary theatre company in Toronto, is dedicating its biannual Spotlight Festival to the creative talent of Australia. Spotlight Australia will feature the work of five of Australia's most innovative, outstanding performing arts companies, over a six-week period in March-April 2017.
Associations and Activities
Expatriate groups across Canada
DownUnder Social Club of Calgary
DownUnder Social Club of Edmonton

Australian Rules Football
Ontario Australian Football League
Ottawa Swans Australian Football Club

Cricket
The Ottawa Valley Cricket Council

Australian Wine Societies
The Australian and New Zealand Wine Society of Ottawa
Australian Wine Society of Toronto
Australian Wine Society of Calgary