Australian High Commission
Canada
Address: Suite 710-50 O'Connor St, Ottawa ON, K1P 6L2 / Phone 613-236-0841 / Fax 613-786-7621 / Visas 613-238-1040
Follow the High Commissioner on Twitter
Australia in Canada on Facebook
Prime Minister Malcolm Turnbull meets Canadian Prime Minister Justin Trudeau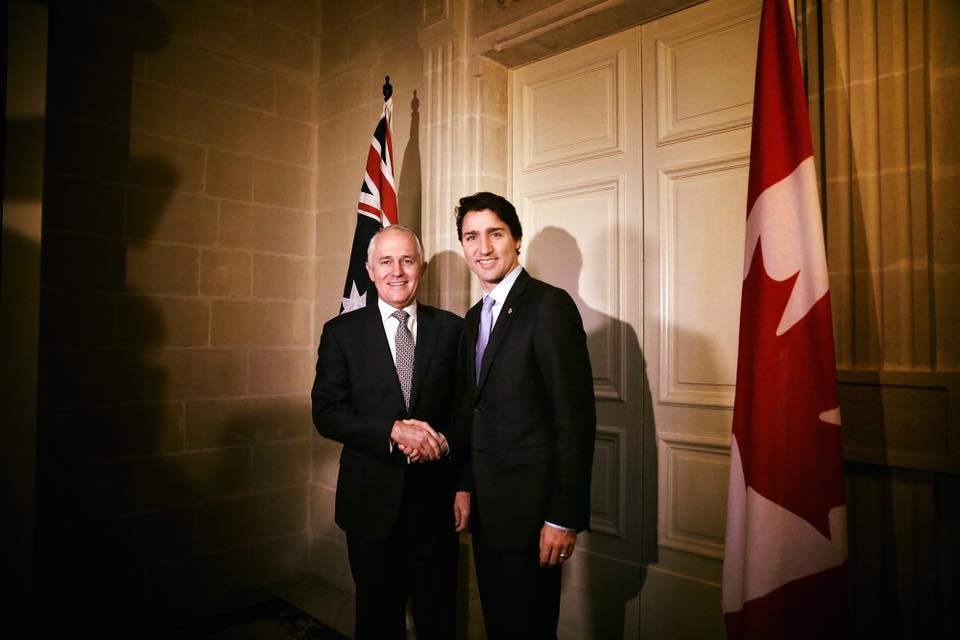 Prime Minister Malcolm Turnbull met with Canadian Prime Minister Justin Trudeau at the Commonwealth Heads of Government Meeting in November 2015.
Foreign Minister Julie Bishop visits Canada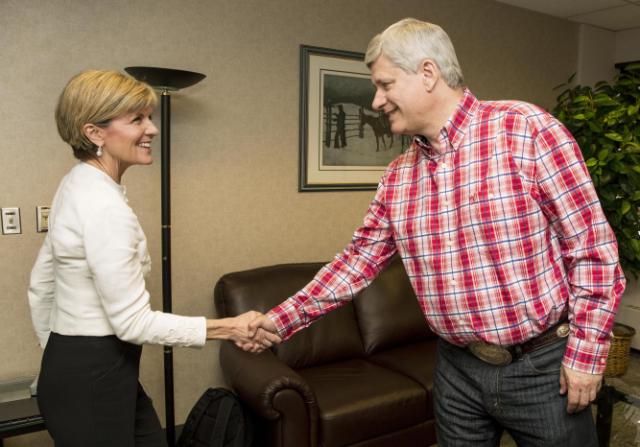 The recent visit of Australia's Foreign Minister Julie Bishop to Canada was the first by an Australian Foreign Minister since 2006. Ms Bishop visited Calgary, 5-6 July, and Vancouver, 7 July, to meet senior Canadian leaders and to represent Australia at the Australia-Canada Economic Leadership Forum. (PMO Photo by Jill Thompson)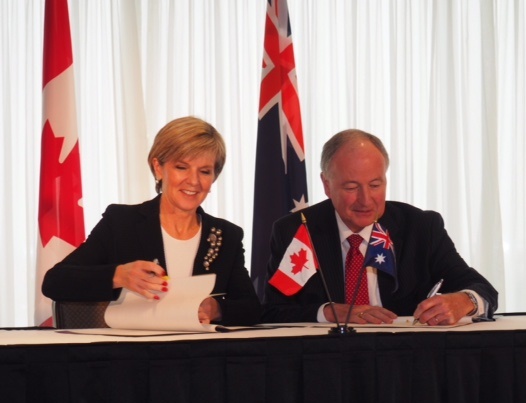 In Vancouver, Minister Bishop and Canadian Foreign Minister Rob Nicholson signed the Glasgow-Burchell Declaration on Enhanced Diplomatic Network Cooperation, boosting our diplomatic and consular joint efforts and effectiveness (more information on the agreement).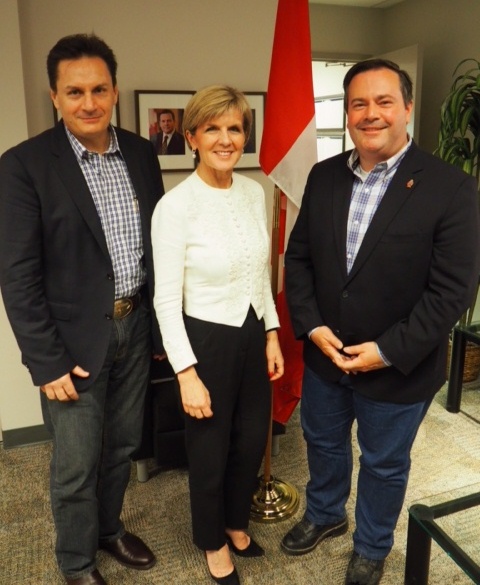 In Calgary, Minister Bishop and High Commissioner Negus met with Canadian Minister of National Defence Jason Kenney to discuss continued cooperation between our two countries in addressing global security challenges.

Anzac Centenary commemorations in Ottawa
In collaboration with the New Zealand High Commission, we hosted two Anzac Centenary commemorations in Ottawa this year. Australians, New Zealanders, Canadians and others attended a solemn dawn service in sub-zero temperatures at the National War Memorial as the sun rose over the Capital. Hundreds gathered later in the morning for an Anzac Centenary service at the Canadian War Museum, attended by the Canadian Governor General His Excellency the Right Honourable David Johnston, and the Chief of the Defence Staff General Tom Lawson.
For photos of the services, please click here.

Trade and Investment Minister Andrew Robb visits Vancouver and Toronto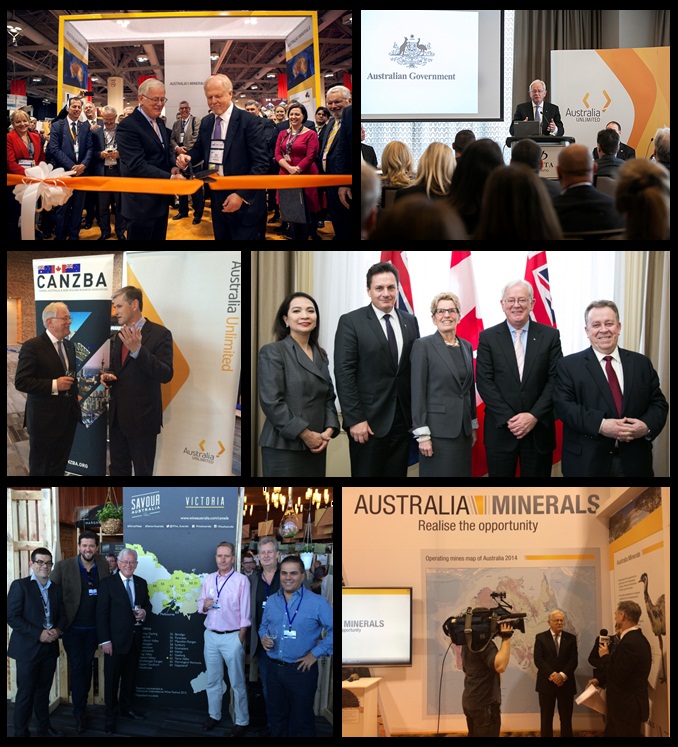 Following a productive business mission to New Zealand, Trade and Investment Minister Andrew Robb travelled directly to Canada to promote Australian exports and investment opportunities in areas such as mining equipment, technology and services (METS). Mr Robb led a delegation of Australian industry representatives and attended a series of events and meetings between 28 February and 4 March 2015.
"Australia and Canada have long shared strong economic ties but there are also real opportunities to increase our trade and investment relationship across areas such as mining, infrastructure and agribusiness," he said.
Mr Robb's program began at the Vancouver International Wine Festival, where Australia – with our world-renowned wine industry – was this year's feature country. More than 50 Australian wineries were present, showcasing 300 quality wines at over 30 separate events. Australia is Canada's fourth largest supplier of wine. In Vancouver, he also met members of the local business community at a Canada-Australia-New Zealand Business Association event.
Mr Robb attended the 2015 Prospectors and Developers Association of Canada Convention (PDAC 2015) in Toronto where Australia's world-leading METS firms exhibited their broad range of services and expertise. He had a productive meeting with Canada's Minister of International Trade, Ed Fast, as well as Ontario's Premier Kathleen Wynne and Northern Development and Mines Minister Michael Gravelle.
Mr Robb also hosted an infrastructure investment roundtable with representatives from leading Canadian pension funds, banks, fund managers and insurance companies. Australia and Canada already share a significant two-way investment relationship worth around $80 billion.

"Canada is an important investor in Australia with total stock of around $27 billion in areas like infrastructure financing and construction, resources and energy and agribusiness," Mr Robb said. "Australia is increasing its integration in the Asia Pacific with recently concluded Free Trade Agreements with Korea, Japan and China for example, and consequently we provide both a stable investment base and ideal gateway for countries like Canada which are seeking to access the exploding middle class markets of our region."
Successful G20 Summit concludes in Australia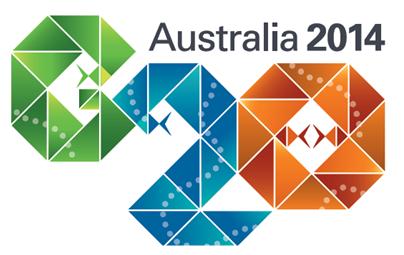 In November, Australian Prime Minister Tony Abbott chaired the G20 Leaders' Meeting in Brisbane. It was the largest gathering of world leaders ever held in Australia.
"The thing about the G20 is that it is large enough to be representative of the wider world and it's small enough to be effective. That's why the G20 is now such an important element in the global governance architecture" Mr Abbott said.
The G20, under Australia's leadership in 2014, delivered real, practical results that will make people around the world better off in the medium term through higher growth and improved employment outcomes.
The Communiqué agreed by leaders said "Raising global growth to deliver better living standards and quality jobs for people across the world is our highest priority."
The signature achievement of the G20 in 2014 was the agreement of the Brisbane Action Plan, which includes a comprehensive growth strategy for each G20 member, which, if fully implemented, would lead to overall G20 GDP being around 2.1 per cent higher by late 2018 than would otherwise have been the case. This will add over $2 trillion to the global economy.
There were also major initiatives agreed on infrastructure and cutting the gap between female and male labour force participation.
At the conclusion of the Summit, Mr Abbott said: "This Brisbane summit, and indeed the whole year of Australia's G20 presidency, has not just been about bold ideas, it's been about strong execution as well. We set a goal, we developed a plan and we believe we have implemented it."
READ MORE: Full G20 Closing Remarks from Prime Minister Tony Abbott, November 2014

G20 Leaders' Communique, Brisbane Summit, November 2014


Prime Minister Abbott's Statement to House of Representatives in Canberra
Madam Speaker, as we all know, overnight there has been an attack on the Canadian Parliament.
A soldier has been killed and others have been wounded following the terrorist murder of a Canadian soldier the day before.
Madam Speaker, apart from New Zealand, no country on earth is more akin to Australia than Canada.
We are both multicultural federations with British institutions, they speak our language, and they share our heritage and our danger.
More than 100 Canadians are believed to be fighting with the ISIL death cult and other terrorist groups in the Middle East and more have been infected with godless fanaticism.
So, Madam Speaker, today, more than ever, Australians and Canadians are family. We feel Canada's shock, pain and anger.
I have been in their Parliament, I have been at their War Memorial – so many of us have. I regard Stephen Harper, their Prime Minister, as a friend and almost a brother. So, an attack on their Parliament is an affront to this Parliament too.
So, today, Madam Speaker, we stand shoulder to shoulder with our Canadian comrades in defiance and resolution.
We stand for freedom and for the right of all people in all places to choose their way of life and their way of worship. We always have and we always will.
Madam Speaker, finally, I note the presence in our Parliament today of Canada's High Commissioner and I hope that he finds some comfort on this day in the solidarity of our Parliament with him.
Link: http://www.pm.gov.au/media/2014-10-23/statement-house-representatives-parliament-house-canberra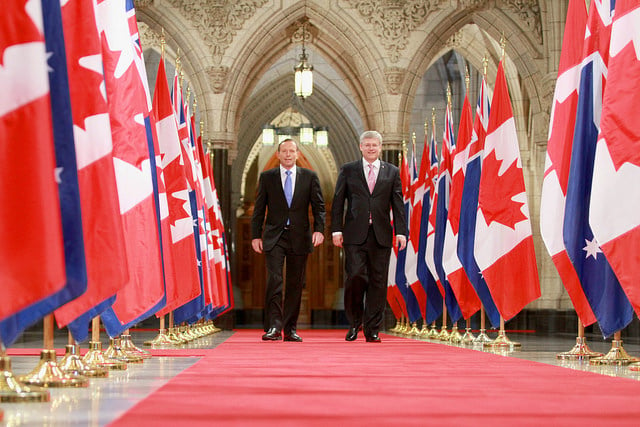 Prime Minister Tony Abbott with Canadian Prime Minister Stephen Harper in Ottawa June 2014
Papua New Guinea Visa Applications
Historically, the Australian High Commission acted as an agent for Papua New Guinea (PNG) Immigration. Following new directions from the PNG Government, with effect from 10 July 2014, the Australian High Commission in Ottawa is no longer allowed to accept PNG visa applications. All PNG visa applications have to be lodged by the applicant directly to the Papua New Guinea Immigration and Citizenship Service Authority (PNG ICSA) Office in Port Moresby, PNG.
Australia's G20 Sherpa delivers keynote address at CIGI in Ottawa
Dr. Heather Smith, Australia's G20 Sherpa and Deputy Secretary of the Department of the Prime Minister and Cabinet, delivered a keynote address on the challenges and opportunities Australia faces in chairing the G20 during a period of post-crisis consolidation. Dr. Smith spoke on how the Australian presidency of the G20 is working with members to promote growth, build resilience in the global economy and build a durable international order to underpin global prosperity in the twenty-first century. The 2014 G20 leaders' summit will be held in Brisbane, Australia on 15-16 November 2014.
Prime Minister Tony Abbott visits Ottawa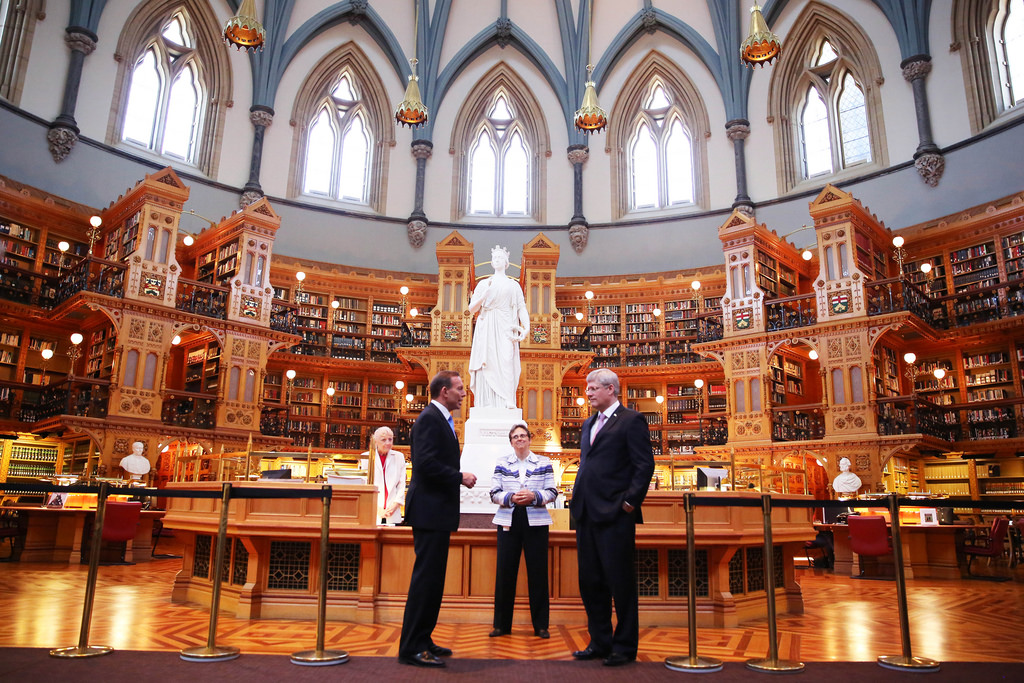 Prime Minister Tony Abbott and Canadian Prime Minister Stephen Harper in the Parliamentary Library in Ottawa.
Following a visit to France to commemorate the 70th anniversary of D-Day, Prime Minister Tony Abbott arrived in Ottawa on Sunday 8 June. The two-day visit started at the Canadian War Museum where Prime Minister Abbott announced steps to increase cooperation between the institution and the Australian War Memorial to commemorate the shared contribution of both countries to victory in World War One. Full release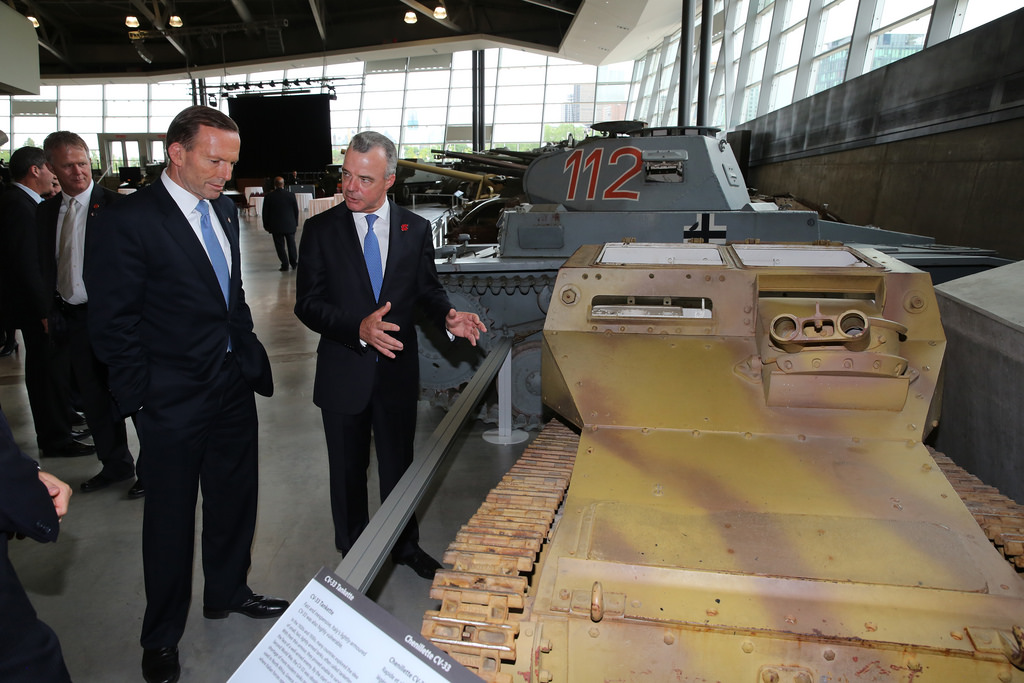 Prime Minister Tony Abbott tours the Canadian War Museum.
In the evening, High Commissioner Louise Hand welcomed Prime Minister Abbott to Australia House for a dinner with business leaders and to do some gardening. The Prime Minister enthusiastically helped the High Commissioner plant a Himalayan Birch. His tree joined those of former Australian Prime Ministers Sir Robert Menzies and John Howard, and former Governor-General Dame Quentin Bryce in the Residence garden.

Prime Minister Tony Abbott plants a tree in the Residence garden with High Commissioner Louise Hand.
An early bike ride on a beautiful Monday morning started Prime Minister Abbott's second day in the capital. He was accompanied by members of the Royal Canadian Mounted Police as they traversed Gatineau Park.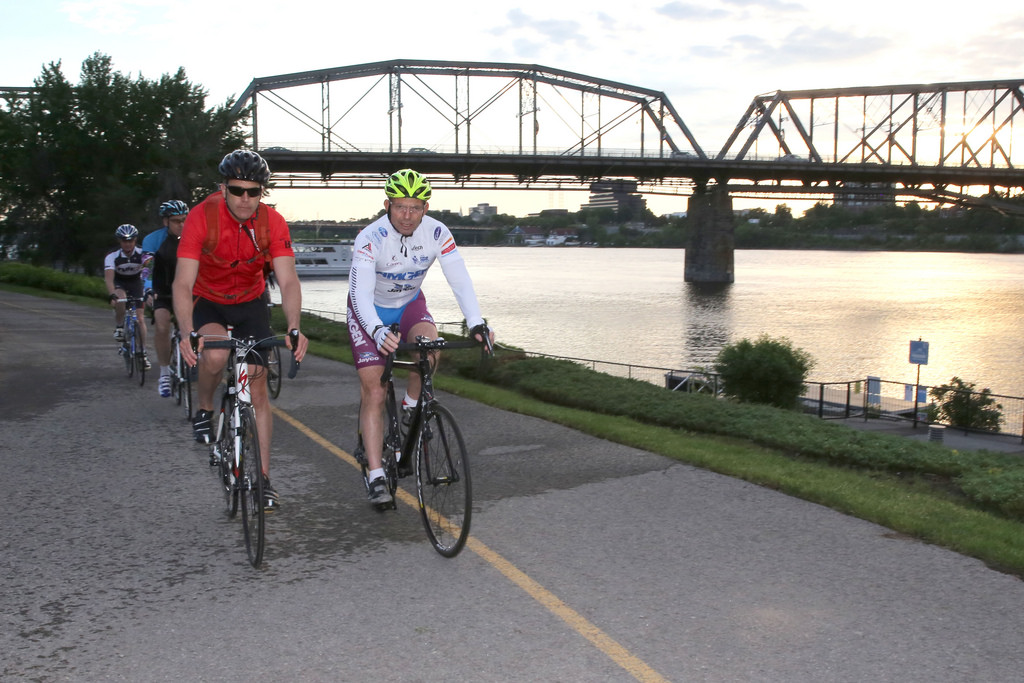 Prime Minister Tony Abbott in Gatineau, QC.
Next up for the Prime Minister was breakfast with Canadian Prime Minister Stephen Harper. The pair first met in 2005 when Mr Harper was the opposition leader.
"He has taken me under his wing when he was an experienced Prime Minister and I was a mere neophyte Opposition Leader. He has kept me under his wing and I look forward to a strong partnership in all of the forums of the world in the months and years to come." – Prime Minister Abbott at his official dinner in Ottawa. Full text
The connection between the two leaders and the close bilateral relationship was apparent as Prime Minister Abbott received an impressive welcome on Parliament Hill. This included a 19 gun salute, an inspection of the honour guard, anthems and the multitude of Australian flags all around the city.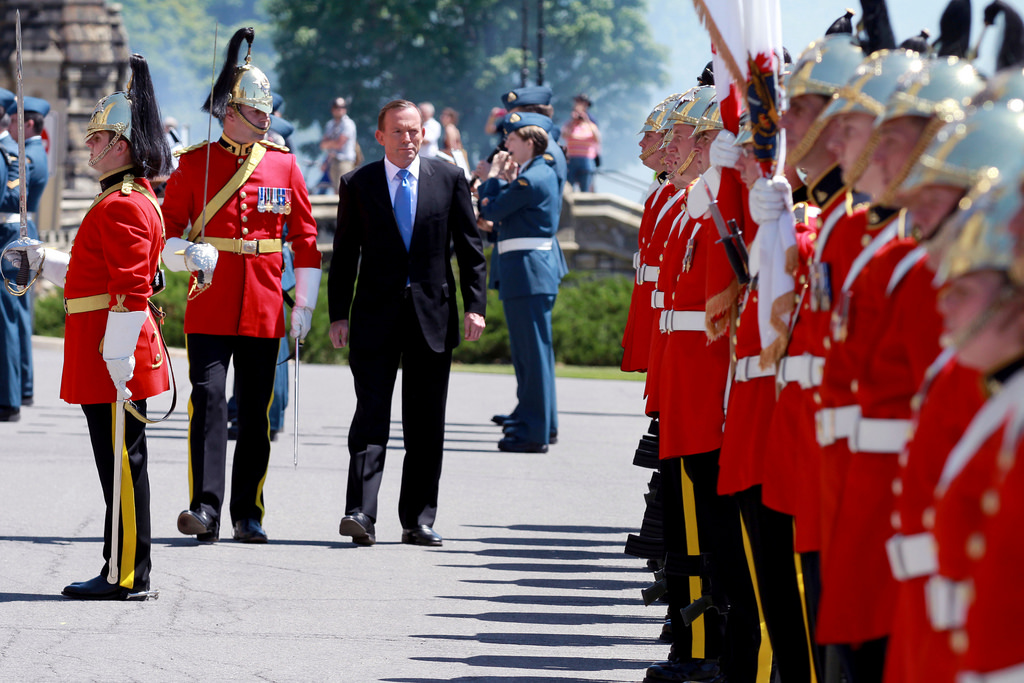 Prime Minister Tony Abbott on Parliament Hill in Ottawa.
From Prime Minister Harper: "In a recent address to the Australian-Canadian economic leadership forum, you said, and I quote: "Let us make more of the friendship between Australia and Canada for our own good and for the good of the wider world." Let us use your visit here to renew the bonds of friendship and to recommit to work together for a better Canada, a better Australia, and a better world. Again, we're delighted that you've come, and I look forward to many more equally productive meetings in the months and years ahead." Full Text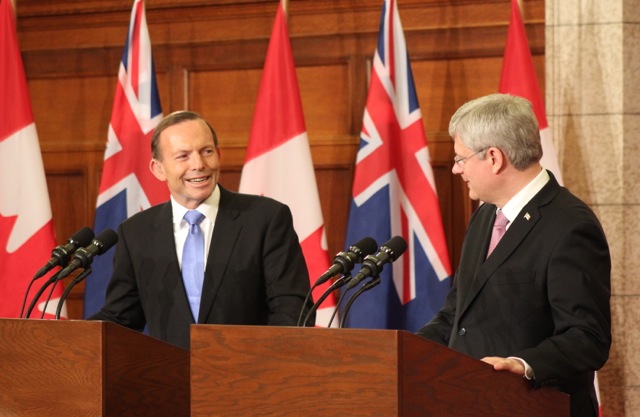 Prime Minister Tony Abbott and Canadian Prime Minister Stephen Harper.
Prime Minister Abbott and Trade and Investment Minister Andrew Robb hosted a discussion roundtable with members of the Australian and Canadian business community, the focus of which was infrastructure and energy investment. Prime Minister Abbott is travelling with a delegation of business leaders from organisations such as: APPEA, Ausfilm, Austmine, Boeing Australia and South Pacific, BHP Billiton, Garvan Institute of Medical Research, IFM Investors, Infrastructure Partnership Australia, Peter MacCallum Cancer Centre, QIC, and Transurban.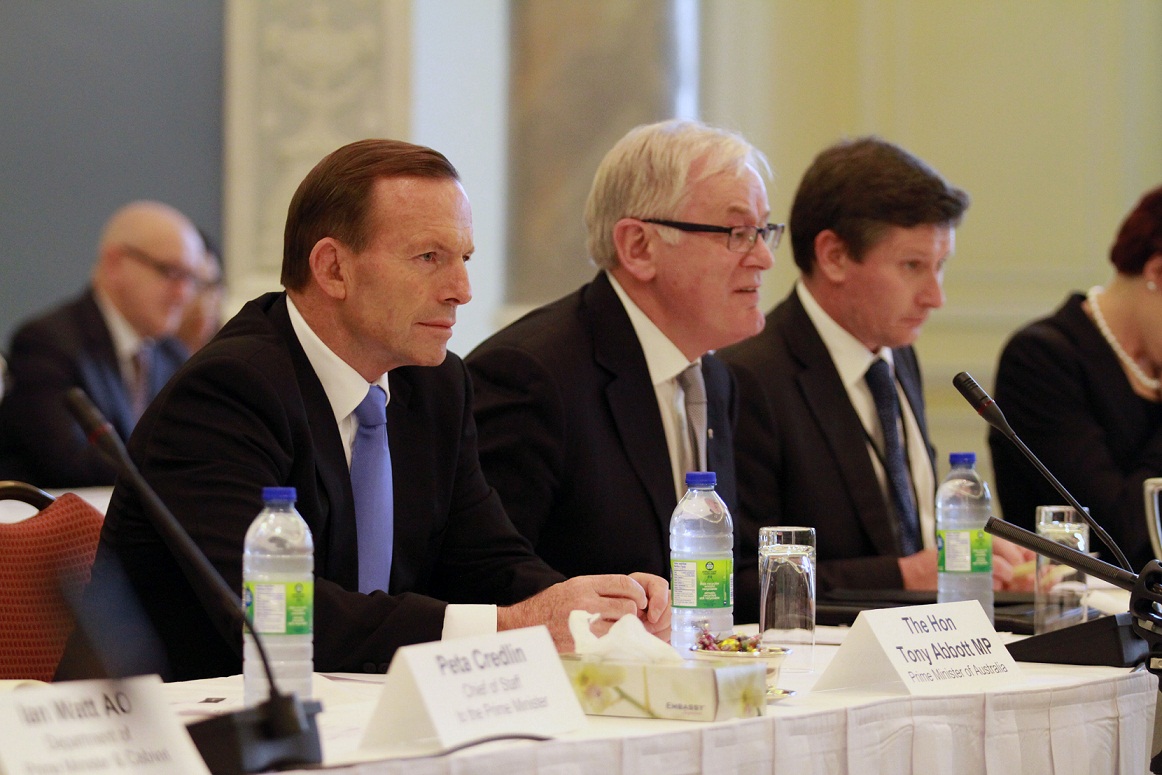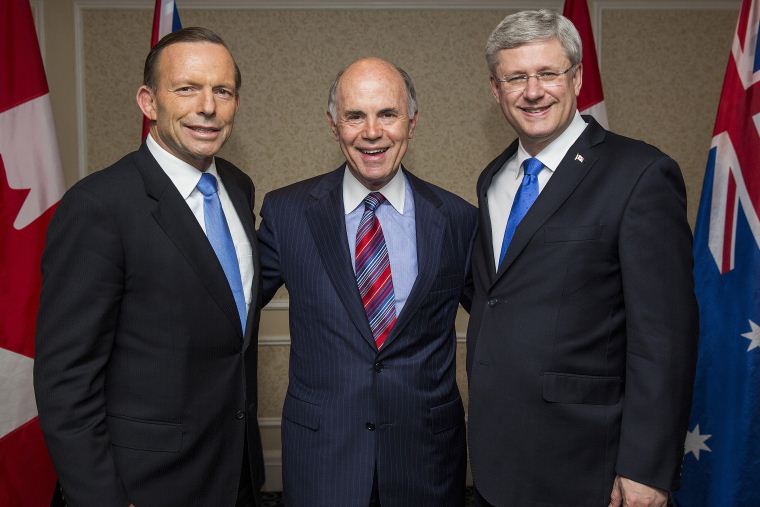 Left: Prime Minister Tony Abbott and Trade Minister Andrew Robb. Right: Co-Chair of the Australia-Canada Economic Leadership Forum Mr Thomas d'Aquino with Prime Ministers Abbott and Harper.
One thousand tweets and counting
If you're not already following us on twitter, here's a look at what you've missed in our first thousand tweets: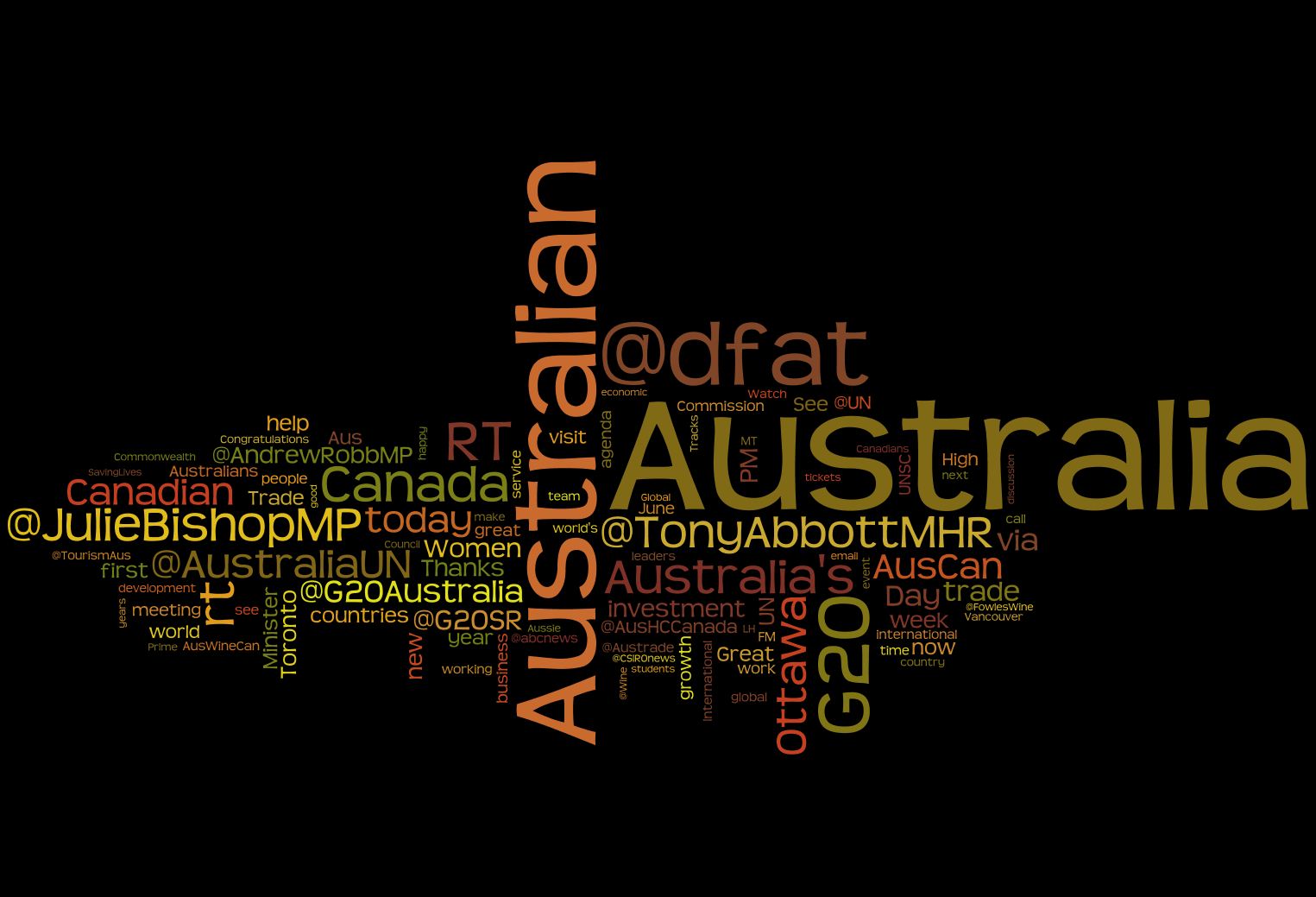 Follow us at @AusHCCanada for Australian events in Canada, information for travellers and residents abroad, and interesting things Australians are doing around the world.